Pheromone Yellow Delta Trap & Lures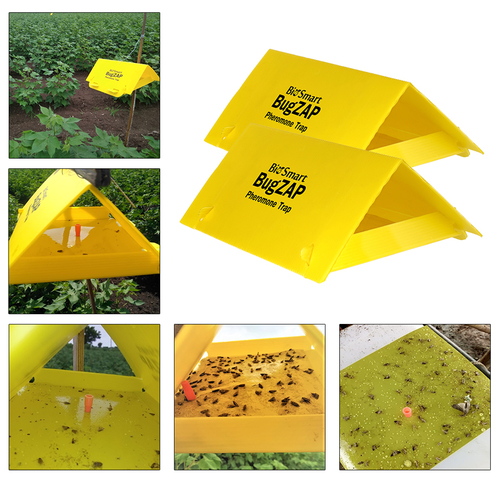 Pheromone Yellow Delta Trap & Lures
Product Description
     Shish Industriesprovides sustainable solutions and biological pest control methods, we see aneed for more and better information. Using the wrong product or the wrongapproach for a biological pest management solution can back fire. Shish provideyou with the resources to help you make the best choices when it comes to yourintegrated pest management needs. we can help with our line of bio controlproducts and biological control methods.
Pheromone Trap
A specially designed,triangular pheromone trap with a sticky base for the monitoring of flies,mosquitoes and moths. Pheromone trap is a commonly used tool for the timelydetection of a new infestation and for monitoring population size.
Sticky Trap
Sticky traps by ShishIndustries are a highly-effective tool for identifying adult insect pestspresent in a greenhouse, including whiteflies, thrips, fungus gnats, shoreflies and leaf miners.
Sticky traps can alsobe used to monitor adult parasitoids released in biological control programs.Sticky traps only capture airborne adults and do not capture immature stagesthat commonly cause most crop damage.
ÂÂ
Sticky Roll
Sticky Rolls providean easy method for estimating pest population densities. When the timing ofpest control actions is based on these relative estimates along with plantsample data from visual inspections, there is generally a reduction inpesticide use.
As a result, there are fewer problems with pesticide resistance, less exposureto pesticides, reduced pesticide runoff and improved plant quality with lesspesticide induced phytotoxicity symptoms.
ÂÂ
Mosquito Trap
A specially designed sticky trap to catch mosquitos. The trapmakes use of Pheromone to attract mosquito to sticky liner and traps them,effectively. Our mosquito trap is a biological and eco-friendly solutions tocontrol the mosquito population.
ÂÂ
Pheromone Lures
Pheromone traps utilize insect hormones to simulate the type ofscent produced by the female insect to seduce or lure their male counterparts.Males lured into traps are prevented from mating.
Pheromone traps are used for trapping to reduce the immediate pest populationand also for monitoring purposes.
Contact Us
Survey No. 265/266, Block No. 290, Plot No. 18 to 23, B/1 Paiki 1, Pipodara, Mangrol, Gujarat, 394110, India
Phone :+918045477889